Honda Accord: Replacing a Front Side Marker Light Bulb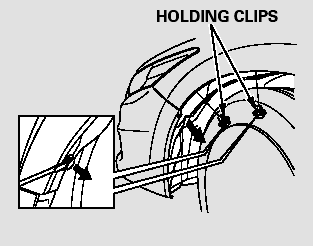 1. To change the bulb on the driver's side, start the engine, turn the steering wheel all the way to the right, then turn off the engine. To change the bulb on the passenger's side, turn the steering wheel to the left.
2. Use a flat-tip screwdriver to remove the two holding clips from the inner fender.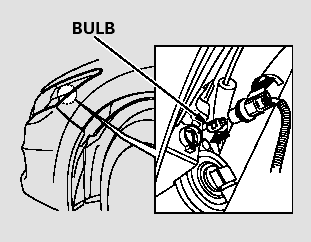 3. Remove the socket from the headlight assembly by turning it one-quarter turn counterclockwise.
4. Pull the burned out bulb straight out of its socket.
Push the new bulb straight into the socket until it bottoms.
5. Insert the socket back into the headlight assembly. Turn it clockwise to lock it in place.
6. Turn on the lights to make sure the new bulb is working.
7. Reinstall the inner fender cover.
Then reinstall the holding clips, and lock them in place by pushing on their centers.
1. Open the hood. To change the turn signal bulb on the passenger's side, remove the engine coolant reserve tank by pulling it out of its stay. Driver's side on V6 models Remove the a ...
1. Open the trunk. Remove the screws in the center of each of the two fasteners on the side of the trunk lining. Pull the lining back. 2. Determine which of the three bulbs is burned out: ...
See also:
Interior Care
Use a damp cloth with a mixture of mild detergent and warm water to remove dirt. Use a clean cloth to remove detergent residue. Do not spill liquids inside the vehicle. Electrical devices and ...
Replacing Tires andWheels
Replace your tires with radial tires of the same size, load range, speed rating, and maximum cold tire pressure rating (as shown on the tire's sidewall). Mixing radial and bias-ply tires on ...
Security System Alarm
The security system alarm activates when the doors, trunk, or hood are opened without the key, remote transmitter, or smart entry system. The security alarm continues for a maximum of two minutes ...