Honda Accord: Recirculation Control Motor Replacement
1. Remove the glove box (see page 20-174).
2. Disconnect the 7P connector (A) from the recirculation control motor (B). Remove the self-tapping screws and the recirculation control motor from the heater unit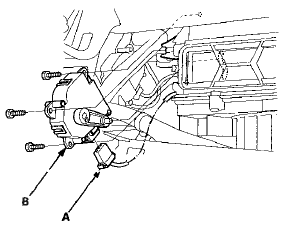 3. Install the motor in the reverse order of removal.
Make sure the pin on the motor is properly engaged with the linkage. After installation, make sure the motor runs smoothly.
'08-09 models 4-door with A/T and "10 model with A/T NOTE: Before testing the motor, check for HVAC DTCs (see page 21-9). 1. Disconnect the 7P connector from the recirculation control moto ...
1. Remove the audio unit (see page 23-115).' 2. Remove the self-tapping screws. If necessary, replace the bulbs (A). 3. While holding the HVAC control unit (A), firmly press the center of one of ...
See also:
Accessory Power Socket Trim Removal/Installation
Special Tools Required KTC Trim Tool Set SOJATP2014* *Available through the Honda Tool and Equipment Program; call 888-424-6857 NOTE: - Take care not to scratch the console. - Use the approp ...
Circuit Diagram
'08-09 Models 10 Model ...
Fuel Gauge Sending Unit Test
NOTE: For the fuel gauge system circuit diagram, refer to the Gauges Circuit Diagram (see page 22-336). 1. Check the No. 5 METER (7.5 A) fuse in the driver's under-dash fuse/relay box before test ...