Honda Accord: Recirculation Control Motor Replacement
1. Remove the glove box (see page 20-174).
2. Disconnect the 7P connector (A) from the recirculation control motor (B). Remove the self-tapping screws and the recirculation control motor from the heater unit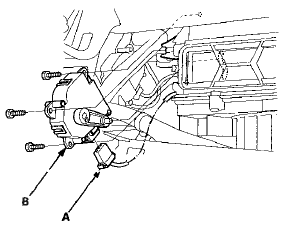 3. Install the motor in the reverse order of removal.
Make sure the pin on the motor is properly engaged with the linkage. After installation, make sure the motor runs smoothly.
'08-09 models 4-door with A/T and "10 model with A/T NOTE: Before testing the motor, check for HVAC DTCs (see page 21-9). 1. Disconnect the 7P connector from the recirculation control moto ...
1. Remove the audio unit (see page 23-115).' 2. Remove the self-tapping screws. If necessary, replace the bulbs (A). 3. While holding the HVAC control unit (A), firmly press the center of one of ...
See also:
Climate Control Power and Ground Circuit Troubleshooting
1. Check the No. 16 (7.5 A) fuse in the driver's under-dash fuse/ relay box. is the fuse OK? YES-Go to step 2. NO-Replace the fuse, and recheck. If the fuse blows again, check for a short in ...
Circuit Diagram
DRIVER'S UNDER-DASH FUSE/RELAY BOX CONNECTOR P (20P) BRAKE PEDAL POSITION SWITCH 4P CONNECTOR GAUGE CONTROL MODULE 32P CONNECTOR VSA OFF SWITCH BP CONNECTOR YAW RATE-LATERAL ACCELE ...
Bluetooth HandsFreeLink
If equipped Bluetooth HandsFreeLink (HFL) allows you to place and receive phone calls using voice commands, without handling your cell phone. To use HFL, you need a Bluetoothcompatible cell ...