Honda Accord: Protecting Discs
When a disc is not being played, store it in its case to protect it from dust and other contamination. To prevent warpage, keep discs out of direct sunlight and extreme heat.
To clean a disc, use a clean soft cloth.
Wipe across the disc from the center to the outside edge.
A new disc may be rough on the inner and outer edges. The small plastic pieces causing this roughness can flake off and fall on the recording surface of the disc, causing skipping or other problems.
Remove these pieces by rubbing the inner and outer edges with the side of a pencil or pen.
Never try to insert foreign objects in the disc changer.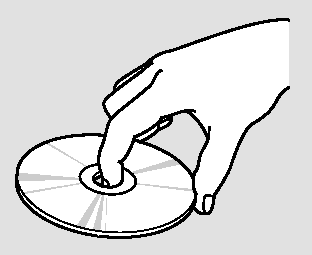 Handle a disc by its edges; never touch either surface. Do not place stabilizer rings or labels on the disc.
These, along with contamination from finger prints, liquids, and felttip pens, can cause the disc to not play properly, or possibly jam in the drive.
When using CD-R or CD-RW discs, use only high quality discs labeled for audio use. When recording a CD-R or CD-RW, the recording must be closed for it to be used by the disc changer. Play ...
The in-dash disc player/changer has a sophisticated and delicate mechanism. If you insert a damaged disc as indicated in this section, it may become stuck inside and damage the audio unit. ...
See also:
Wear Indicators
The groove where the wear indicator is located is 1/16 inch (1.6 mm) shallower than elsewhere on the tire. If the tread has worn so that the indicator is exposed, replace the tire. Worn out ...
Alternator Overhaul
Exploded View Special Tools Required - Driver Handle, 15 x 135L 07749-0010000 - Bearing Driver Attachment, 42 x 47 mm 07746-0010300 NOTE: Refer to the Exploded View as needed during this proced ...
ABS (Anti-lock Brake System)
NOTICE The ABS may not function correctly if you use an incorrect tire type and size. When the ABS indicator comes on while driving, there may be a problem with the system. While normal braki ...