Honda Accord: Passenger's Dashboard Trim Removal/Installation
Special Tools Required
KTC Trim Tool Set SOJATP2014*
* Available through the Honda Tool and Equipment Program; call 888-424-6857
NOTE: - Take care not to scratch the dashboard or the related parts.
- Use the appropriate tool from the KTC trim tool set to avoid damage when removing components.
1. Remove the passenger's dashboard trim (A).
-1. Open the glove box.
-2. Pull out on the outside bottom edge of the trim by hand.
-3. Detach the clips along the trim.
-4. Release the hook (B) from under the center panel (C).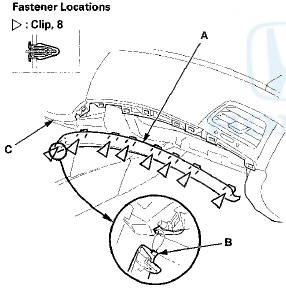 2. Install the trim in the reverse order of removal, and note these items: - If the clips are damaged or stress-whitened, replace them with new ones.
- First insert the hook under the center panel, then push the clips into place securely.
Special Tools Required KTC Trim Tool Set SOJATP2014* *Available through the Honda Tool and Equipment Program; call 888-424-6857 Without Navigation System NOTE: - Take care not to scratch the d ...
NOTE: Take care not to scratch the glove box. 1. Remove the glove box (see page 20-174). 2. While lifting the glove box handle (A), pull out one end of the retainer (B) with a hook-shaped tool ...
See also:
Additional Information on Recommended Discs
The in-dash disc player/changer has a sophisticated and delicate mechanism. If you insert a damaged disc as indicated in this section, it may become stuck inside and damage the audio unit. ...
A/T Clutch Pressure Control Solenoid Valve A Test
1. Connect the HDS to the DLC (A) located under the driver's side of the dashboard. 2. Turn the ignition switch to ON (II). Make sure the HDS communicates with the PCM. If it does not, go to the ...