Honda Accord: Parking Brake Cable Replacement
Exploded View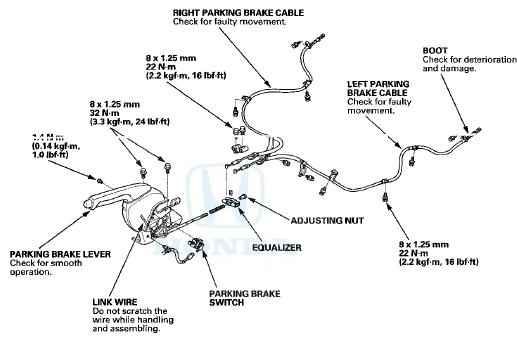 NOTE: - The parking brake cables must not be bent or distorted. This will lead to stiff operation and premature cable failure.
- Refer to the Exploded View as needed during this procedure.
1. Release the parking brake lever fully.
2. Loosen the parking brake cable adjusting nut (see page 19-8).
3. Remove the flange bolt (A) from the arm (B).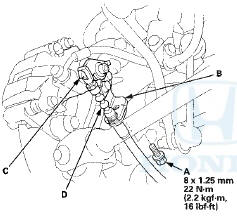 4. Disconnect the parking brake cable from the lever (C).
5. Remove the parking brake cable mounting hardware, then remove the cable.
6. Install the parking brake cable in the reverse order of removal, and note these items: - Be careful not to bend or distort the cable and boot (D).
- Make sure the clearance between the lower arm B and parking brake cable is more than 5 mm (0.20 in).
- Adjust the parking brake (see page 19-8).
NOTE; - Before reassembling, cheek that all parts are free of dirt and other foreign particles. - Replace parts with new ones whenever specified to do so. - Do not spill brake fluid on the ve ...
See also:
Clutch Master Cylinder Replacement
NOTE: - Use fender covers to avoid damaging painted surfaces. - Do not spill brake fluid on the vehicle; it may damage the paint or plastic. If brake fluid does contact the paint or plastic, ...
Folder Repeat
This feature, when activated, replays all files in the selected folder. To activate folder repeat mode, select FOLDER REPEAT by using the interface knob, and press ENTER on the interface sel ...
Auto Door Locking
The auto door locking feature has three possible settings: The auto door locking is deactivated all the time. The doors lock whenever you move the shift lever out of the Park (P) position (A ...