Honda Accord: Outside Air Temperature Sensor Replacement
1 Disconnect the 2P connector (A) from the outside air temperature sensor (B).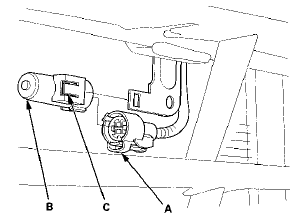 2. Lift the tab (C) to release the lock, then remove the outside air temperature sensor from the front bumper.
3. Install the sensor in the reverse order of removal.
1 Remove the outside air temperature sensor (see page 22-353). 2. Dip the sensor in ice water, and measure the resistance. Then pour warm water on the sensor, and check for a change in resistanc ...
See also:
Closing Force and Opening Drag Check
1. Remove the headliner (see page 20-140). 2. Closing force check: - Cover the leading edge of the glass (A) with a shop towel (B), and attach a spring scale (C) as shown. - Have an assistant ...
Airbag Care
You do not need to, and should not, perform any maintenance on or replace any airbag system components yourself. However, you should have your vehicle inspected by a dealer in the following situat ...
Hood insulator Replacement
For Some Models NOTE; Take care not to scratch the hood. 1. Detach the clips with a clip remover. Remove the hood insulator (A) by pulling it away from the hooks (B). 2. Install the ins ...