Honda Accord: Outside Air Temperature Sensor Replacement
1 Disconnect the 2P connector (A) from the outside air temperature sensor (B).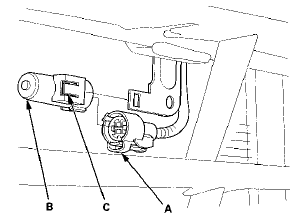 2. Lift the tab (C) to release the lock, then remove the outside air temperature sensor from the front bumper.
3. Install the sensor in the reverse order of removal.
1 Remove the outside air temperature sensor (see page 22-353). 2. Dip the sensor in ice water, and measure the resistance. Then pour warm water on the sensor, and check for a change in resistanc ...
See also:
Changing the Folders
While playing an MP3/WMA disc, you can select a folder within the disc by pressing either side of the category bar. Each time you press either side of the bar, the folder title and its first ...
Fuel Gauge
This shows how much fuel you have. It may show slightly more or less than the actual amount. The needle returns to the bottom after you turn off the ignition. Avoid driving with an extremely ...
Remote Audio Controls
Three controls for the audio system are mounted in the steering wheel hub. These let you control basic functions without removing your hand from the wheel. The VOL button adjusts the volume ...