Honda Accord: Oil Pump Chain inspection
1. Remove the oil pan (see page 7-11).
2. Measure the oil pump chain auto-tensioner rod length. If the length is over the service limit, replace the oil pump chain (see page 8-25).
Oil Pump Chain Auto-Tensioner Rod Length
Service Limit: 13 mm (0.51 in)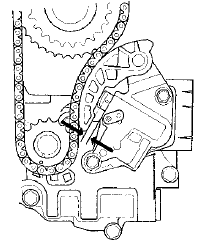 3. Install the oil pan (see page 7-30).
1. Seat the balancer shaft by pushing it away from the oil pump sprocket end of the oil pump. 2. Zero the dial indicator against the end of the balancer shaft, then push the balancer shaft back a ...
NOTE: Keep the oil pump chain away from magnetic fields. Removal 1. Remove the drive belt (see page 4-30). 2. Remove the oil pan (see page 7-11). 3. Support the engine with a jack and a wood ...
See also:
Tire Pressure Monitoring System (TPMS) -Required Federal Explanation
Each tire, including the spare (if provided), should be checked monthly when cold and inflated to the inflation pressure recommended by the vehicle manufacturer on the vehicle placard or tire infl ...
Power Mirror Actuator Test
1. Remove the mirror mount cover (see page 20-62). 2. Disconnect the 8P connector (A) from the power mirror actuator (B). 3. Check the actuator operation by connecting battery power and ground ...
Front Door Outer Handle Replacement
NOTE: - Put on gloves t o protect your hands. - Take care not to scratch the door. 1 . Remove the door panel: - 2-door (see page 20-12) - 4-door (see page 20-17) 2. Disconnect the power door ...