Honda Accord: Oil Pump Chain inspection
1. Remove the oil pan (see page 7-11).
2. Measure the oil pump chain auto-tensioner rod length. If the length is over the service limit, replace the oil pump chain (see page 8-25).
Oil Pump Chain Auto-Tensioner Rod Length
Service Limit: 13 mm (0.51 in)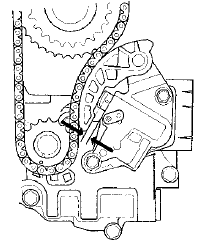 3. Install the oil pan (see page 7-30).
1. Seat the balancer shaft by pushing it away from the oil pump sprocket end of the oil pump. 2. Zero the dial indicator against the end of the balancer shaft, then push the balancer shaft back a ...
NOTE: Keep the oil pump chain away from magnetic fields. Removal 1. Remove the drive belt (see page 4-30). 2. Remove the oil pan (see page 7-11). 3. Support the engine with a jack and a wood ...
See also:
Front Brake Pad Inspection and Replacement
Special Tools Required Brake Caliper Piston Compressor 07AAE-SEPA101 Frequent inhalation of brake pad dust, regardless of material composition, could be hazardous to your health. - Avoid breath ...