Honda Accord: Oil Pump Chain inspection
1. Remove the oil pan (see page 7-11).
2. Measure the oil pump chain auto-tensioner rod length. If the length is over the service limit, replace the oil pump chain (see page 8-25).
Oil Pump Chain Auto-Tensioner Rod Length
Service Limit: 13 mm (0.51 in)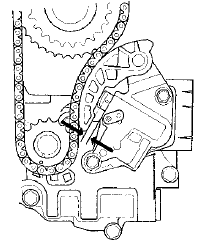 3. Install the oil pan (see page 7-30).
1. Seat the balancer shaft by pushing it away from the oil pump sprocket end of the oil pump. 2. Zero the dial indicator against the end of the balancer shaft, then push the balancer shaft back a ...
NOTE: Keep the oil pump chain away from magnetic fields. Removal 1. Remove the drive belt (see page 4-30). 2. Remove the oil pan (see page 7-11). 3. Support the engine with a jack and a wood ...
See also:
Countershaft Disassembly, Inspection, and Reassembly
1. Inspect the needle bearings for galling and rough movement. 2. Inspect the splines for excessive wear and damage. 3. Check the shaft bearing surface for scoring and excessive wear. 4. Lubr ...
Advice for Pregnant Women
If you are pregnant, the best way to protect yourself and your unborn child when driving or riding in a vehicle is to always wear a seat belt, and keep the lap part of the belt as low as p ...