Honda Accord: Oil Pump Chain inspection
1. Remove the oil pan (see page 7-11).
2. Measure the oil pump chain auto-tensioner rod length. If the length is over the service limit, replace the oil pump chain (see page 8-25).
Oil Pump Chain Auto-Tensioner Rod Length
Service Limit: 13 mm (0.51 in)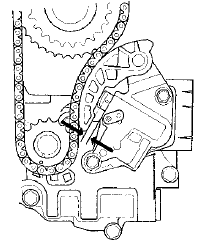 3. Install the oil pan (see page 7-30).
1. Seat the balancer shaft by pushing it away from the oil pump sprocket end of the oil pump. 2. Zero the dial indicator against the end of the balancer shaft, then push the balancer shaft back a ...
NOTE: Keep the oil pump chain away from magnetic fields. Removal 1. Remove the drive belt (see page 4-30). 2. Remove the oil pan (see page 7-11). 3. Support the engine with a jack and a wood ...
See also:
Crankshaft Pulley Removal and Installation
Special Tools Required Handle, 6-25-660L 07JAB-001020B Crankshaft Pulley Holder 07AAB-RJAA100 Socket, 19 mm 07JAA-001020A or equivalent Removal 1 . Remove the front wheels. 2. Remove the splas ...
Countershaft Reverse Selector Hub and 3rd Gear Removal
1. Install a commercially available bearing separator on 4th gear (A). Set the countershaft (B) on a press with a spacer (C) between the press and the countershaft, and remove the reverse selector ...
Front Door Panel Removal/Installation
Special Tools Required -KTC Trim Tool Set SOJATP2014* -Trim Pad Remover Snap-on A 177A, commercially available *Available through the Honda Tool and Equipment Program; call 888-424-6857 2-do ...