Honda Accord: Motor Replacement
NOTE: Put on gloves to protect your hands.
1. Remove the headliner (see page 20-140).
2. Disconnect the connector (A), and remove the screws, then remove the motor (B).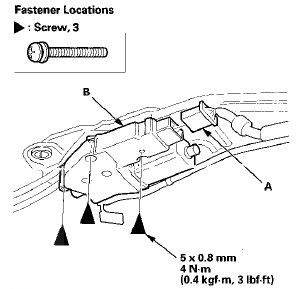 3. Install the motor in the reverse order of removal, and note these items: - Make sure the motor connector is plugged in properly.
- Reset the moonroof control unit (see page 22-371).
- Check the motor operation.
1. Remove the drain channel (see page 20-94). 2. Slide the sunshade (A) until you can see both sunshade slider spacers (B). 3. Remove the screws, then remove both sunshade slider spacers. 4. ...
SRS components are located in this area. Review the SRS component locations, 2-door (see page 24-23), 4-door (see page 24-21) and the precautions and procedures (see page 24-25) before doing repair ...
See also:
Fuel Pulsation Damper Replacement
PZEV model 1. Relieve the fuel pressure (see page 11-306). 2. Remove the engine cover. 3. Place a wrench (A) on the fuel rail (B). 4. Place a wrench (C) on the fuel pulsation damper (D), an ...
Seat Belt Maintenance
For safety, you should check the condition of your seat belts regularly. Pull each belt out fully, and look for frays, cuts, burns, and wear. Check that the latches work smoothly and the belt ...
Brake System Indicator
The brake system indicator normally comes on when you turn the ignition switch to the ON (II) position and as a reminder to check the parking brake. It will stay on if you do not fully r ...