Honda Accord: Motor Replacement
NOTE: Put on gloves to protect your hands.
1. Remove the headliner (see page 20-140).
2. Disconnect the connector (A), and remove the screws, then remove the motor (B).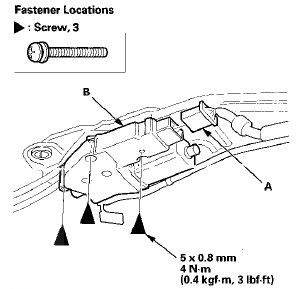 3. Install the motor in the reverse order of removal, and note these items: - Make sure the motor connector is plugged in properly.
- Reset the moonroof control unit (see page 22-371).
- Check the motor operation.
1. Remove the drain channel (see page 20-94). 2. Slide the sunshade (A) until you can see both sunshade slider spacers (B). 3. Remove the screws, then remove both sunshade slider spacers. 4. ...
SRS components are located in this area. Review the SRS component locations, 2-door (see page 24-23), 4-door (see page 24-21) and the precautions and procedures (see page 24-25) before doing repair ...
See also:
Charging System Indicator
Charging System Indicator If the charging system indicator comes on brightly when the engine is running, the battery is not being charged. Immediately turn off all electrical accessories ...
Special Tools
...
Mode Control Motor Test
'08-09 models with A/T and '10 model with A/T NOTE; Before testing the motor, check for HVAC DTCs (see page 21-9). 1. Disconnect the 7P connector from the mode control motor. Incorrectly app ...