Honda Accord: Gauges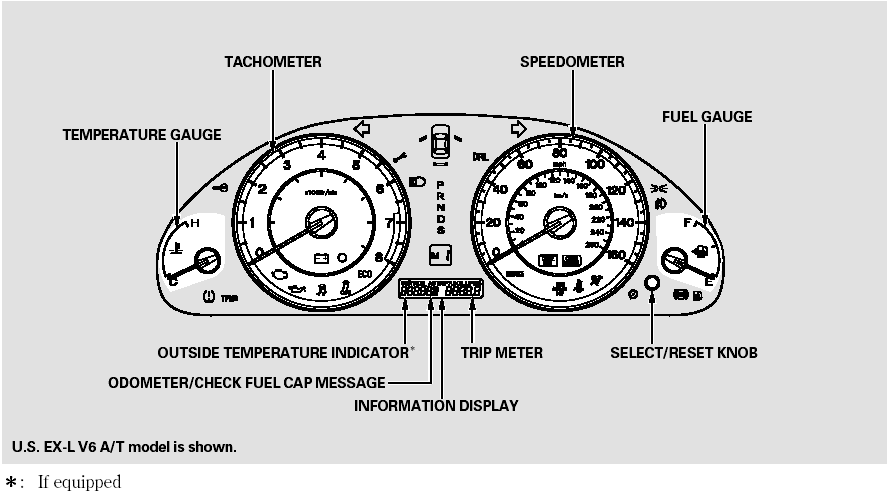 Gauges
Instrument Panel The instrument panel has many indicators to give you important information about your vehicle. Seat Belt Reminder Indicator This indicator comes on when you turn the ig ...
Information Display The information display shows the odometer, trip meter, engine oil life, outside temperature (if equipped), and maintenance item code(s). To switch the display, press and ...
See also:
System Description
fuel and Emissions S f stems Diagram 1.AIR FUEL RATIO (A/F) SENSOR (SENSOR 1) 2.SECONDARY HEATED OXYGEN SENSOR (SECONDARY H02S) (SENSOR 2) 3.MANIFOLD ABSOLUTE PRESSURE (MAP) SENSOR 4.ENGINE COO ...
Cam Chain Case Oil Seal Installatio
Special Tools Required Driver Handle, 15 x 135L 07749-0010000 Attachment, 52 x 55 mm 07746-0010400 1. Clean and dry the crankshaft oil seal. 2. Apply a light coat of new engine oil to the lip of ...
Valve Body and ATF Strainer Removal
1. Remove the ATF feed pipes (A) and the ATF joint pipes (B). 2. Remove the ATF strainer (C) (two bolts). 3. Remove the regulator valve body (D) (eight bolts). 4. Remove the stator shaft (E) and ...