Honda Accord: Fuel Cap Adapter Replacement
NOTE: - Put on gloves to protect your hands.
- Take care not to scratch the body.
1. Remove the fuel pipe protector (see page 20-294).
2. Remove the fuel cap (A) by turning it counterclockwise, and remove the screw.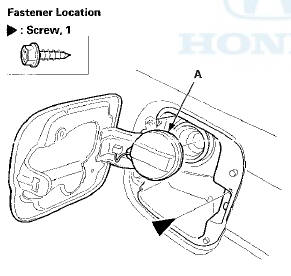 3. Remove the bolts, and lower the fuel filler pipe (A), then remove it from the fuel cap adapter (B).
4. Turn the fuel cap adapter (A), then remove it.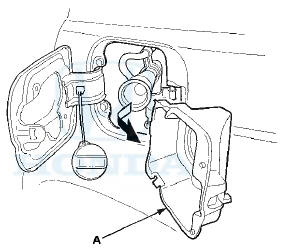 5. Install the adapter in the reverse order of removal, and note these items: - Make sure the fuel cap adapter is properly installed on the fuel filler pipe. Take care not to deform the packing of the adapter.
- Apply medium strength liquid thread lock to the fuel filler pipe mounting bolts before reinstallation.
1. Slightly loosen the hinge mounting bolts (A). 2 . Adjust the fuel fill door (B) in or out until it is flush with the body, and up or down as necessary to equalize the gaps. 3. Tighten the h ...
See also:
Engine Coolant
Adding Engine Coolant If the coolant level in the reserve tank is at or below the MIN line, add coolant to bring it up to the MAX line. Inspect the cooling system for leaks. Always use Hond ...
Audio System Lighting
You can use the instrument panel brightness control knob to adjust the illumination of the audio system. The audio system illuminates when the parking lights are on, even if the radio is turne ...
Manual Transmission
4-cylinder models Check the fluid level with the transmission at normal operating temperature and the vehicle sitting on level ground. To check the transmission fluid level, remove the und ...