Honda Accord: Front Turn Signal/Side Marker Light Bulbs
When replacing, use the following bulbs.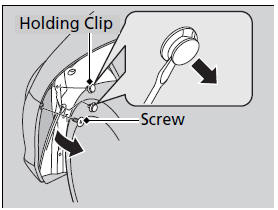 1. Turn the steering wheel all the way to the opposite side from the light being replaced.
Passenger side: Turn the steering wheel to the left.
Driver side: Turn the steering wheel to the right.
2. Remove the holding clips and screw, and pull the inner fender back.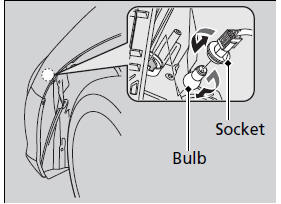 3. Turn the socket to the left and remove it.
4. Push in the old bulb, rotate to the left until it unlocks, and remove.
5. Insert a new bulb.
Insert a flat-tip screwdriver, lift and remove the central pin to remove the clip.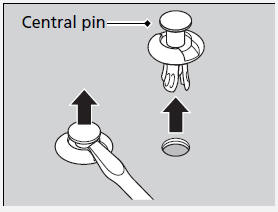 Insert the clip with the central pin raised, and push until it is flat.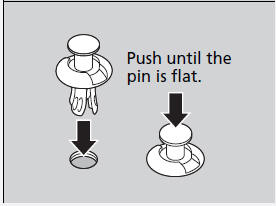 When replacing, use the following bulbs. 1. Loosen the screw using a Phillips-head screwdriver. - Be careful not to rotate the screwdriver more than one or two times to the left. ...
Door mirrors have the side turn lights. Have an authorized Honda dealer inspect and replace the light bulbs. ...
See also:
Winter Tires
If driving on snowy or frozen roads, mount all season marked M+S tires, snow tires, or tire chains; reduce speed; and maintain sufficient distance between vehicles when driving. Be particularly ...
Reverse Shift Fork Clearance Inspection
1. Measure the clearance between the reverse Idler gear (A) and the reverse shift fork (B) with a feeler gauge (C). If the clearance exceeds the service limit, go to step 2. Standard; 0.20-0.59 mm ...