Honda Accord: Front Turn Signal/Side Marker Light Bulbs
When replacing, use the following bulbs.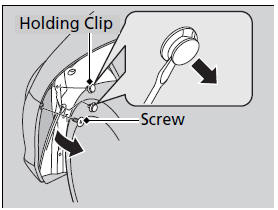 1. Turn the steering wheel all the way to the opposite side from the light being replaced.
Passenger side: Turn the steering wheel to the left.
Driver side: Turn the steering wheel to the right.
2. Remove the holding clips and screw, and pull the inner fender back.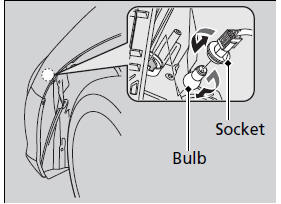 3. Turn the socket to the left and remove it.
4. Push in the old bulb, rotate to the left until it unlocks, and remove.
5. Insert a new bulb.
Insert a flat-tip screwdriver, lift and remove the central pin to remove the clip.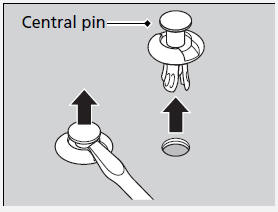 Insert the clip with the central pin raised, and push until it is flat.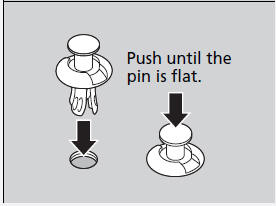 When replacing, use the following bulbs. 1. Loosen the screw using a Phillips-head screwdriver. - Be careful not to rotate the screwdriver more than one or two times to the left. ...
Door mirrors have the side turn lights. Have an authorized Honda dealer inspect and replace the light bulbs. ...
See also:
Side Impact Sensor (Second) Replacement
4-Door Removal 1. Do t h e b a t t e r y t e r m i n a l d i s c o n n e c t i o n procedure (see page 22-91), t h e n w a i t at least 3 m i n u t e s before s t a r t i ng work. 2. Remove t ...
Output Shaft (Countershaft) Speed Sensor Replacement
1. Remove the nut securing the under-hood fuse/relay box, and swing it out of the way. 2. Remove the intake air duct and the air cleaner housing. 3. Disconnect the output shaft (countershaft) ...
Rear Seat Armrest Replacement
Special Tools Required KTC Trim Tool Set SOJATP2014* *Available through the Honda Tool and Equipment Program; call 888-424-6857 4-door NOTE: - Use the appropriate tool from the KTC trim tool s ...