Honda Accord: Front Air Spoiler Replacement
NOTE: -Take care not to scratch the front bumper, - Put on gloves to protect your hands.
- When prying with a flat-tip screwdriver, wrap it with protective tape to prevent damage.
1. Remove the clips securing the front air spoiler (A) from under the front bumper (B).
NOTE: To release the clips, pry up on the center pin at the notch (C).
2-door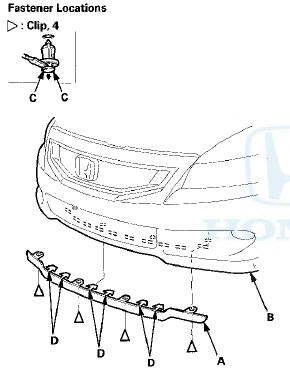 4-door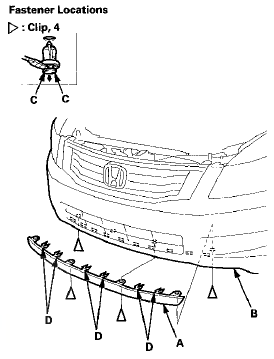 2. Pull out the front air spoiler to detach the hooks (D), and remove the spoiler.
3. Install the spoiler in the reverse order of removal, and note these items: - If the clips are damaged or stress-whitened, replace them with new ones.
- Push the hooks and the clips into place securely.
2-door NOTE; Take care not to scratch the front bumper. 1. Remove the front bumper (see page 20-255). 2. Remove the screws (A, B), then remove the front bumper fog light cover (C) from the fro ...
NOTE: - Have an assistant help you when removing and installing the rear bumper. - Take care not to scratch the rear bumper or the body. - Put on gloves to protect your hands. - When prying ...
See also:
All ChildrenMust Be Restrained
Each year, many children are injured or killed in vehicle crashes because they are either unrestrained or not properly restrained. In fact, traffic collisions are the number one cause of dea ...
Towing
If the vehicle needs to be towed, call a professional towing service. Never tow the vehicle behind another vehicle with just a rope or chain It is very dangerous. Emergency Towing There are three ...
General Troubleshooting Information
General Operation Refer to the navigation system manual for the navigation system operating procedures. Anti-theft Feature The navigation system and audio unit have a coded theft protection circu ...