Honda Accord: Door Striker Adjustment
Make sure the door latches securely without slamming it. If necessary, adjust the striker (A): The striker nuts are fixed, but the striker can be adjusted slightly up or down, and in or out.
1. Loosen the screws (B).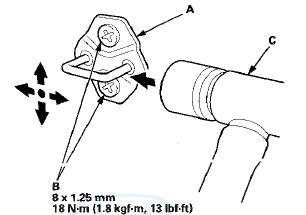 2. Wrap the striker with a shop towel, then adjust the striker by tapping it with a plastic hammer (C). Do not tap the striker too hard.
3. Lightly tighten the screws.
4. Hold the outer handle out, and push the door against the body to be sure the striker allows a flush fit. If the door latches properly, tighten the screws to the specified torque and recheck.
NOTE: Check for a flush fit with the body, then check for equal gaps between the front, rear, and bottom door edges and the body. Check that the door and body edges are parallel. 1. Place the ve ...
See also:
Brake Booster Test
Functional Test 1. With the ignition switch in LOCK (0), press the brake pedal several times to deplete the vacuum reservoir, then press the brake pedal hard and hold it for 15 seconds. If the bra ...
Circuit Diagram
...
Master Cylinder Replacement
- Do not spill brake fluid on the vehicle; It may damage the paint. If brake fluid gets on the paint, wash It off Immediately with water. - Be careful not to damage or bend the brake lines dur ...