Honda Accord: Door Striker Adjustment
Make sure the door latches securely without slamming it. If necessary, adjust the striker (A): The striker nuts are fixed, but the striker can be adjusted slightly up or down, and in or out.
1. Loosen the screws (B).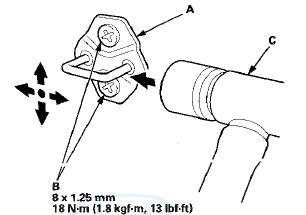 2. Wrap the striker with a shop towel, then adjust the striker by tapping it with a plastic hammer (C). Do not tap the striker too hard.
3. Lightly tighten the screws.
4. Hold the outer handle out, and push the door against the body to be sure the striker allows a flush fit. If the door latches properly, tighten the screws to the specified torque and recheck.
NOTE: Check for a flush fit with the body, then check for equal gaps between the front, rear, and bottom door edges and the body. Check that the door and body edges are parallel. 1. Place the ve ...
See also:
Block and Piston inspection
1. Remove the crankshaft and the pistons (see page 7-14). 2. Check the piston for distortion or cracks. 3. Measure the piston diameter at a point 13 mm (0.5 in) from the bottom of the skirt. T ...
Rear Door Outer Molding Replacement
Special Tools Required KTC Trim Tool Set SOJATP2014* - Available through the Honda Tool and Equipment Program; call 888-424-6857 4-door N O T E : - If you remove the door outer molding, replace ...
Ignition Switch
WARNING Removing the key from the ignition switch while driving locks the steering. This can cause you to lose control of the vehicle. Remove the key from the ignition switch only when p ...