Honda Accord: Door Striker Adjustment
Make sure the door latches securely without slamming it. If necessary, adjust the striker (A): The striker nuts are fixed, but the striker can be adjusted slightly up or down, and in or out.
1. Loosen the screws (B).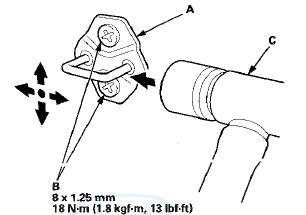 2. Wrap the striker with a shop towel, then adjust the striker by tapping it with a plastic hammer (C). Do not tap the striker too hard.
3. Lightly tighten the screws.
4. Hold the outer handle out, and push the door against the body to be sure the striker allows a flush fit. If the door latches properly, tighten the screws to the specified torque and recheck.
NOTE: Check for a flush fit with the body, then check for equal gaps between the front, rear, and bottom door edges and the body. Check that the door and body edges are parallel. 1. Place the ve ...
See also:
Symptom Troubleshooting Index
...
Tire Service Life
The life of your tires is dependent on many factors, including driving habits, road conditions, vehicle loading, inflation pressure, maintenance history, speed, and environmental conditions (eve ...
General Troubleshooting Information
Lever-Locked Connector Disconnecting To disconnect the connector, pull the lever (A) while pushing the lock tab (B) down, then pull the connector (C). Connecting To connect the connector, push ...