Honda Accord: Cylinder Head Inspection for Warpage
1. Remove the cylinder head (see page 6-76).
2. Inspect the camshaft (see page 6-84).
3. Check the cylinder head for warpage. Measure along the edges, and three ways across the center.
- If warpage is less than 0.05 mm (0.002 in) cylinder head resurfacing is not required.
- If warpage is between 0.05 mm (0.002 in) and 0.2 mm (0.008 in), resurface the cylinder head.
- The maximum resurface limit is 0.2 mm (0.008 in) based on a height of 104 mm (4.09 in).
Cylinder Head Height
Standard (New): 103.95-104.05 mm
(4.093-4.096 in)
Service Limit: 103.8 mm (4.087 in)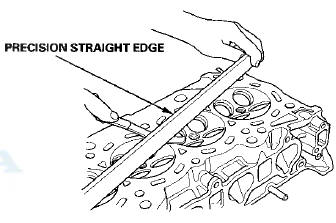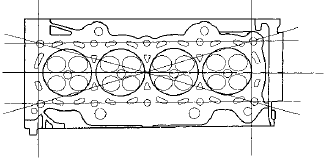 Removal 1. Remove the cam chain (see page 6-62). 2. Hold the camshaft with an open-end wrench, then loosen the variable valve timing control (VTC) actuator mounting bolt and the exhaust camshaft ...
1 Remove the cam chain (see page 6-62). 2. Loosen the rocker arm adjusting screws (A). 3. Remove the camshaft holder bolts. To prevent damaging the camshafts, loosen the bolts, in sequence, tw ...
See also:
Folder Scan
This feature, when activated, samples the first file in each folder for 10 seconds. To scan a folder, press the SCAN side of the SCAN/ A. SEL bar repeatedly. You will see SCAN next to FOLDER ...
Front Bumper Fog Light Cover Replacement
2-door NOTE; Take care not to scratch the front bumper. 1. Remove the front bumper (see page 20-255). 2. Remove the screws (A, B), then remove the front bumper fog light cover (C) from the fro ...
Oil Check
We recommend that you check the engine oil level every time you refuel. Park the vehicle on level ground. Wait approximately three minutes after turning the engine off before you check the oil ...