Honda Accord: Countershaft Reverse Selector Hub and 3rd Gear Installation
Special Tools Required
Driver Handle, 40 mm I.D. 07746-0030100
1. Install 2nd gear, 1st gear, 5th gear, and the 37 x 41 x 54.3 mm collar on the countershaft.
2. Slide 3rd gear (A) over the countershaft, and press it in place using the 40 mm driver and a press.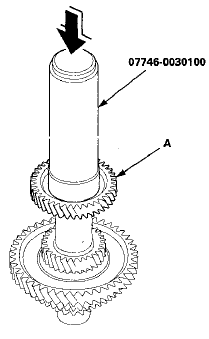 3. Install the 31 mm cotters, the 35 x 47 x 7.8 mm collar, the set ring, the needle bearing, and 4th gear.
4. Slide the reverse selector hub (A) over the countershaft, then press it in place using the 40 mm driver and the press.
NOTE: Some reverse selector hubs are not press-fitted, and can be installed without using the 40 mm driver and a press.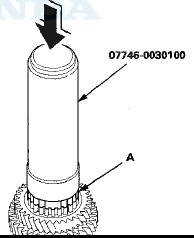 1. Install a commercially available bearing separator on 4th gear (A). Set the countershaft (B) on a press with a spacer (C) between the press and the countershaft, and remove the reverse selector ...
1. Inspect the thrust needle bearings a n d the needle bearings for g a l l i n g and rough movement 2. Inspect the splines for excessive wear and damage. 3. Check the shaft bearing surface fo ...
See also:
A/C System Inspection
Before troubleshooting any problem with the air conditioning system, do the following: 1. With the ignition switch in LOCK (0), inspect the A/C components, the pressure lines and the hoses for sta ...
Oil Pressure Switch Replacement
1. Disconnect the oil pressure switch connector (A), then remove the oil pressure switch (B). 2. Remove any old liquid gasket from the switch and switch mounting hole. 3. Apply a very small am ...
Instrument Visor Removal/Installation
Special Tools Required KTC Trim Too! Set SOJATP2014* *Available through the Honda Tool a n d Equipment Program; call 888-424-6857 NOTE: - Take care not to scratch the dashboard or the related pa ...