Honda Accord: Component Location Index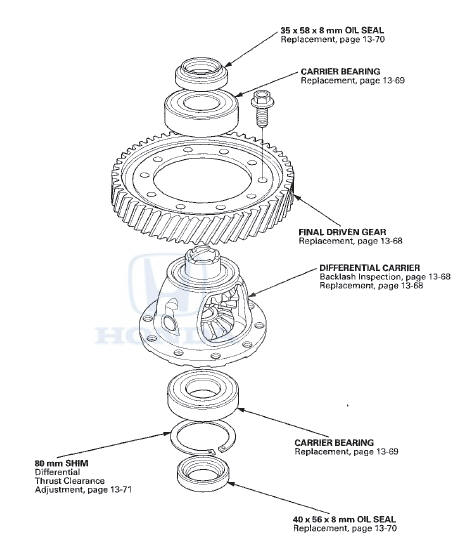 1. Place the differential assembly on V-blocks (A), and install the intermediate shaft (B) and the left driveshaft (C). 2. Measure the backlash of both pinion gears (D) with a dial indicator (E) ...
See also:
Closing Force and Opening Drag Check
1. Remove the headliner (see page 20-140). 2. Closing force check: - Cover the leading edge of the glass (A) with a shop towel (B), and attach a spring scale (C) as shown. - Have an assistant ...
Starting the Engine
1. Make sure the parking brake is applied. 2. Check that the shift lever is in , then depress the brake pedal. - Although it is possible to start the vehicle in , it is safer to st ...
Fuel Gauge Sending Unit Test
NOTE: For the fuel gauge system circuit diagram, refer to the Gauges Circuit Diagram (see page 22-336). 1. Check the No. 5 METER (7.5 A) fuse in the driver's under-dash fuse/relay box before test ...