Honda Accord: Component Location Index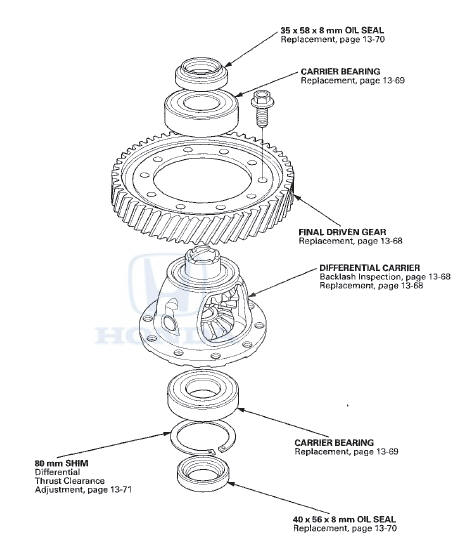 1. Place the differential assembly on V-blocks (A), and install the intermediate shaft (B) and the left driveshaft (C). 2. Measure the backlash of both pinion gears (D) with a dial indicator (E) ...
See also:
Transmission Removal
Special Tools Required - Engine Support Hanger, A and Reds AAR-T1256* - Engine Hanger Adapter VSB02C000015* - Subframe Adapter VSB02C000016* *: Are available through the Honda Tool and Equipme ...
Clutch Clearance Inspection
Special Tools Required Clutch Compressor Attachment 07ZAE-PRP0100 1. Inspect the clutch piston, the clutch discs, the clutch plates, and the clutch end-plate for wear and damage (see page 14-303), ...
Maintenance Main Items
If message "SERVICE" does not appear more than 12 months after the display is reset change the engine oil every year. NOTE: - Independent of the maintenance messages in the smart maint ...