Honda Accord: Component Location Index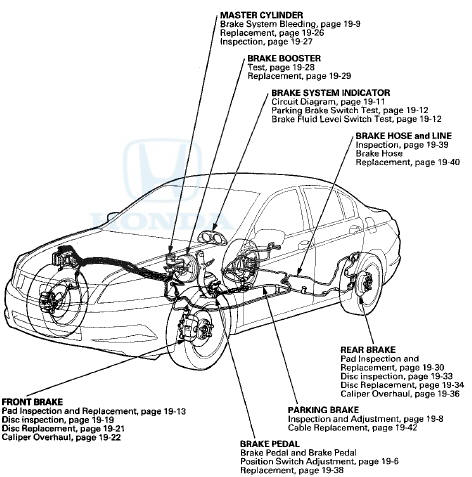 Inspect the brake system components listed. Repair or replace any parts that are leaking or damaged. Component Inspections: Brake System Test Brake pedal sinks/fades when braking 1. Set the pa ...
See also:
Transmission Reassembly
NOTE: Prior to reassembly, clean all the parts in solvent, dry them, and apply MTF to any contact surfaces. 1. Install the magnet (A) and the differential assembly (B). NOTE: Clean the magnet ...
ECT Sensor 1 Replacement
1. Drain the engine coolant (see page 10-6). 2. Disconnect the ECT sensor 1 connector (A). 3. Remove ECT sensor 1 (B). 4. Install the parts in the reverse order of removal with a new O-ring ...
Stabilizer Bar Replacement
1. Raise and support the vehicle (see page 1-13). 2. Remove the rear wheels. 3. Disconnect both stabilizer links from the stabilizer bar (see page 18-47). 4. Remove the flange bolts (A) and ...