Honda Accord: CMP Sensor B Replacement
1. Disconnect the connector (A) and hoses (B) from the EVAP canister purge valve (C), then remove the EVAP canister purge valve assembly.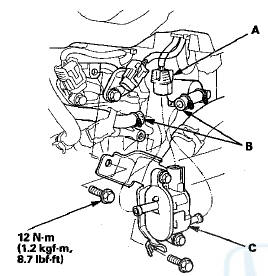 2. Disconnect the CMP sensor B connector (A).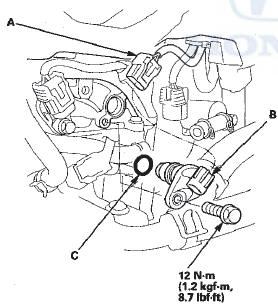 3. Remove CMP sensor B (B).
4. Install the parts in the reverse order of removal with a new O-ring (C).
Special Tools Required 02 Sensor Wrench Snap-on S6176 or equivalent, commercially available 1. Disconnect the secondary H02S 4P connector (A), then remove the secondary H02S (B). 2. Install the ...
1. Raise the vehicle on a lift. NOTE: Make sure the vehicle is level, because engine oil will drip out when you remove the sensor. 2. Remove the CKP sensor cover (A). 3. Disconnect the CKP s ...
See also:
Inflation Guidelines
Keeping the tires properly inflated provides the best combination of handling, tread life, and riding comfort. Underinflated tires wear unevenly, adversely affect handling and fuel economy, ...
Checking Loads
The best way to confirmthat all loads are within limits is to check them at a public scale. For public scales in your area, check your local phone book, or contact your trailer dealer or ren ...