Honda Accord: CMP Sensor B Replacement
1. Disconnect the connector (A) and hoses (B) from the EVAP canister purge valve (C), then remove the EVAP canister purge valve assembly.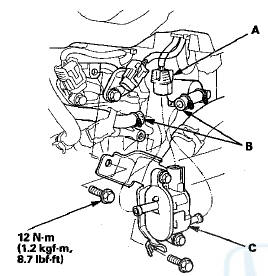 2. Disconnect the CMP sensor B connector (A).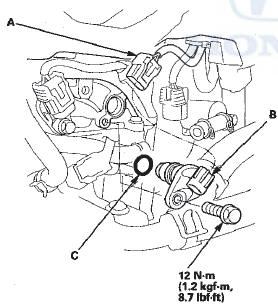 3. Remove CMP sensor B (B).
4. Install the parts in the reverse order of removal with a new O-ring (C).
Special Tools Required 02 Sensor Wrench Snap-on S6176 or equivalent, commercially available 1. Disconnect the secondary H02S 4P connector (A), then remove the secondary H02S (B). 2. Install the ...
1. Raise the vehicle on a lift. NOTE: Make sure the vehicle is level, because engine oil will drip out when you remove the sensor. 2. Remove the CKP sensor cover (A). 3. Disconnect the CKP s ...
See also:
VTEC Rocker Arm Test
Special Tools Required . VTEC Air Stopper 07ZAJ-PNAA200 . VTEC Air Adapter 07ZAJ-PNAA101 (2) . Air Joint Adapter 07ZAJ-PNAA300 - Air Pressure Regulator 07AAJ-PNAA101 1. Start the engine, and let ...
Control Unit Input Test
NOTE: Before testing, troubleshoot the multiplex integrated control unit first, using B-CAN System Diagnosis Test Mode A (see page 22-134), and make sure the lighting system works properly. Driver ...
Specifications (4-cylinder models)
Dimensions Dimensions Weights Weights Air Conditioning Air Conditioning Engine Engine Seating Capacities Seating Capacities Capacities Capacities * 1: Including the coolant in ...