Honda Accord: CMP Sensor A Replacement
1. Disconnect the CMP sensor A 3P connector (B).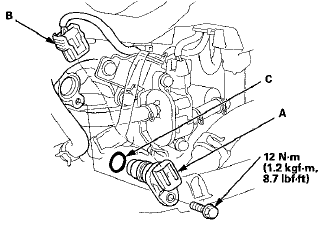 2. Remove CMP sensor A from the intake camshaft side of the cylinder head.
3. Install the parts in the reverse order of removal with a new O-ring (C).
1 Disconnect the VTC oil control solenoid valve 2P connector (A). 2. Remove the bolt (B) and the VTC oil control solenoid valve (C). 3. Connect VTC oil control valve 2P connector terminal No. ...
All models except PZEV 1. Remove the strut brace (see page 20-306). 2. Disconnect the rocker arm oil control solenoid connector (A) and the rocker arm oil pressure switch connector (B). 3. Re ...
See also:
VTC Actuator Inspection
1. Remove the cam chain (see page 6-62). 2. Loosen the rocker arm adjusting screws (see step 2 on page 6-81). 3. Remove the camshaft holder (see step 3 on page 6-81). 4. Remove the intake c ...
Deleting all HDD Data
Reset all the menu and customized settings, and delete all music data on the HDD. 1. Turn on the audio system and select the HDD mode. 2. Press the SETTINGS button. 3. Rotate to select Aud ...