Honda Accord: CKP Pulse Plate Replacement
1. Remove the crankshaft from the engine block (see page 7-14).
2. Remove the CKP pulse plate (A) from the crankshaft.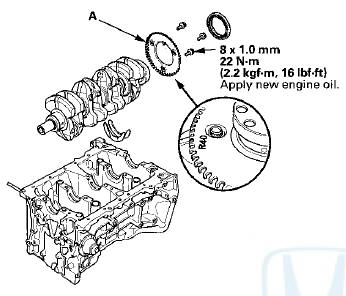 3. Install the CKP pulse plate in the reverse order of removal.
Special Tools Required Driver Handle, 15 x 135L 07749-0010000 Attachment, 24 x 26 mm 07746-0010700 Oil Seal Driver Attachment, 96 mm 07ZAD-PNAA100 1. M/T model: Install the crankshaft end bushing ...
1. Remove all of the old liquid gasket from the oil pan mating surfaces, the bolts, and the bolt holes. 2. Clean and dry the oil pan mating surfaces. 3. Apply liquid gasket, P/N 08717-0004,0871 ...
See also:
Maintenance Main Items
If message "SERVICE" does not appear more than 12 months after the display is reset change the engine oil every year. NOTE: - Independent of the maintenance messages in the smart maint ...
To Stop Playing Your iPod
To play the radio, press the FM/AM, or button. Press the CD button to switch to the disc mode. Press the AUX button to switch back to the iPod. Disconnecting an iPod You can disconnect the ...
Tires
To safely operate your vehicle, your tires must be the proper type and size, in good condition with adequate tread, and correctly inflated. The following pages give more detailed information ...