Honda Accord: CKP Pulse Plate Replacement
1. Remove the crankshaft from the engine block (see page 7-14).
2. Remove the CKP pulse plate (A) from the crankshaft.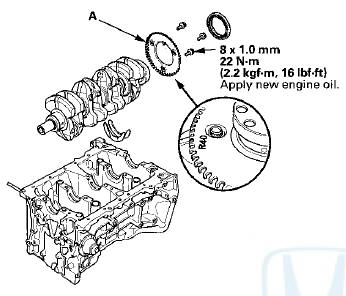 3. Install the CKP pulse plate in the reverse order of removal.
Special Tools Required Driver Handle, 15 x 135L 07749-0010000 Attachment, 24 x 26 mm 07746-0010700 Oil Seal Driver Attachment, 96 mm 07ZAD-PNAA100 1. M/T model: Install the crankshaft end bushing ...
1. Remove all of the old liquid gasket from the oil pan mating surfaces, the bolts, and the bolt holes. 2. Clean and dry the oil pan mating surfaces. 3. Apply liquid gasket, P/N 08717-0004,0871 ...
See also:
FTP Sensor Replacement
1. Remove the bolt (A), and disconnect the EVAP canister vent shut valve 2P connector (B), the FTP sensor 3P connector (C), and the hoses (D). 2. Remove the bolts (E), and move the EVAP canister ...
System Description
Overview The electrical compass shows the azimuth information in 8-directions (N, NE, E, SE, S, SW, W, NW) to the audio-HVAC display unit via the audio unit. Starting Operation When the igniti ...
Symptom Troubleshooting Index
Find the symptom in the chart below, and do the related procedures in the order listed until you find the cause. ...