Honda Accord: CKP Pulse Plate Replacement
1. Remove the crankshaft from the engine block (see page 7-14).
2. Remove the CKP pulse plate (A) from the crankshaft.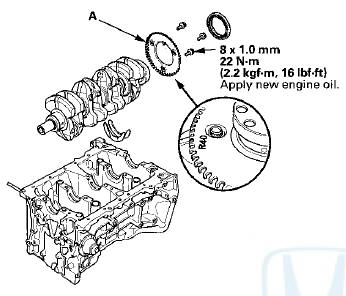 3. Install the CKP pulse plate in the reverse order of removal.
Special Tools Required Driver Handle, 15 x 135L 07749-0010000 Attachment, 24 x 26 mm 07746-0010700 Oil Seal Driver Attachment, 96 mm 07ZAD-PNAA100 1. M/T model: Install the crankshaft end bushing ...
1. Remove all of the old liquid gasket from the oil pan mating surfaces, the bolts, and the bolt holes. 2. Clean and dry the oil pan mating surfaces. 3. Apply liquid gasket, P/N 08717-0004,0871 ...
See also:
Rear Seat-back Release Lever/Cable Removal/Installation
NOTE: - Take care not to bend or scratch the interior trim. - 4-door is shown; 2-door is similar. 1. Remove the rear shelf (see page 20-128). 2. Disconnect the seat-back release cable (A) fr ...
Disc Scan
When you press the SCAN side of the SCAN/A. SEL bar repeatedly until you see D-SCAN in the center display, or push the interface selector to the right, the first track of the current disc pl ...
Servo Body Disassembly, Inspection, and Reassembly
1. Clean all parts thoroughly in solvent, and dry them with compressed air. Blow out all passages. 2. Inspect the valve body for scoring and damage. 3. Check shift valve D for free movement. I ...