Honda Accord: Circuit Diagram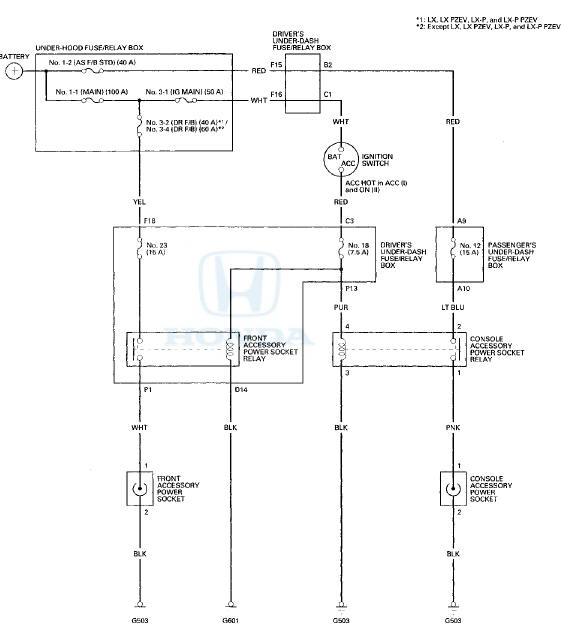 NOTE: If all of the front and console accessory power sockets do not work, check the No. 18 (7.5: A> fuse in the driver's under-dash fuse/relay box and ground (G503) first. 1. Remove the cent ...
See also:
Power Mirror Replacement
NOTE: Take care not to scratch the door. 1. Lower the door glass fully. 2. With your hand, carefully pull out the top edge of the tweeter cover (A) to release the upper hooks (B) and detach th ...
Washer Fluid Level Switch Test
Canada models 1. Remove the right inner fender (see page 20-290). 2. Disconnect the 2P connector (A) from the washer fluid level switch (B). 3. Remove the washer fluid level switch from the w ...
Side Impact Sensor (First) Replacement
4-Door Removal 1. Do t h e battery t e r m i n a l d i s c o n n e c t i o n procedure (see page 22-91), t h e n w a i t at least 3 m i n u t e s before s t a r t i ng work. 2. Remove t h e B-p ...