Honda Accord: Center Console Rear Trim Removal/Installation
Special Tools Required
KTC Trim Tool Set SOJATP2014*
*Available through the Honda Tool and Equipment Program; call 888-424-6857
NOTE: - Take care not to scratch the center console and the related parts.
- Use the appropriate tool from the KTC trim tool set to avoid damage when removing components.
1. Gently pull out the center console rear trim (A) to detach the clips, then remove the trim.
Without rear ventilation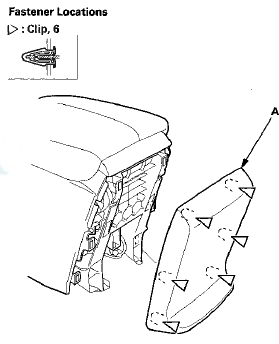 2. With rear ventilation: Disassemble the center console rear t r i m.
-1. Remove t h e screws (A,B), release t h e hooks (C) a n d t h e tabs (D), t h e n remove t h e upper t r im (E) and t he rear vent (F) as an assembly from the lower trim (G).
-2. Remove t h e screws (H), then separete t h e upper trim and t h e rear vent.
3. Install the trim in the reverse order of removal, and note these items: - If the clips are damaged or stress-whitened, replace them with new ones.
- Push the clips, the hooks, and the tabs into place securely.
NOTE: - Put on gloves to protect your hands. - Take care not to scratch the front seat, the dashboard, or the related parts. 1 . Remove these items: - Center console panel (see page 20-157) ...
Special Tools Required KTC Trim Tool Set SOJATP2014* * Available through the Honda Tool and Equipment Program; call 888-424-6857 NOTE: - Take care not to scratch the console. - Use the appro ...
See also:
Parking Brake Switch Test
NOTE: if both the ABS/VSA indicator and the brake system indicator come on at the same time, check the VSA system for DTCs first (see page 19-48). 1. Remove the center console (see page 20-158). ...
Fuel Economy
Actual Mileage and EPA Fuel Economy Estimates Comparison. Fuel economy is not a fixed number. It varies based on driving conditions, driving habits, and vehicle condition. Therefore, it is not ...
Emergency Trunk Opener
The trunk release lever allows you to open the trunk from inside for your safety. Slide the release lever in the direction of the arrow. Parents should decide if their children should be sho ...