Honda Accord: Ball Joint Removal
Special Tools Required
- Ball Joint Thread Protector, 14 mm 07AAE-SJAA100
- Ball Joint Thread Protector, 12 mm 07AAF-SDAA100
- Ball Joint Thread Protector, 10 mm 07AAF-SECA120
- Ball Joint Remover, 32 mm 07MAC-SL0A102
- Ball Joint Remover, 28 mm 07MAC-SL0A202

Always use a ball joint remover to disconnect a ball joint.
Do not strike the housing or any other part of the ball joint connection to disconnect it.
1. Install a hex nut (A) or the ball joint thread protector onto the threads of the ball joint (B).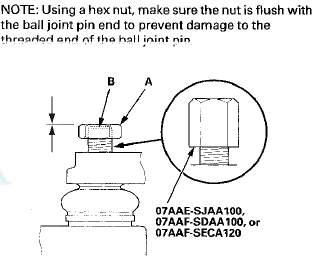 2. Apply grease to the ball joint remover on the areas shown (A). This will ease the installation of the tool, and prevent damage to the pressure bolt (B) threads.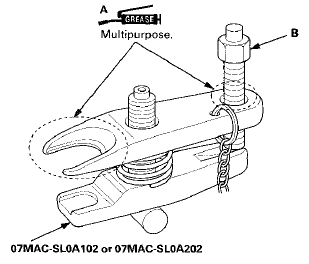 3. Loosen the pressure bolt (A), and install the ball joint remover as shown. Insert the jaws carefully, making sure not to damage the ball joint boot. Adjust the jaw spacing by turning the adjusting bolt (B).
NOTE: Fasten the safety chain (C) securely to a suspension arm or the subframe (D). Do not fasten it to a brake line or wire harness.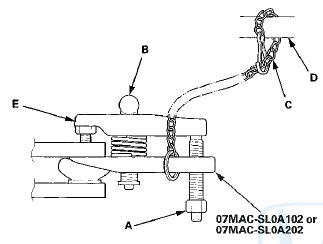 4. After adjusting the adjusting bolt, make sure the head of the adjusting bolt is in the position shown to allow the jaw (E) to pivot.
5. With a wrench, tighten the pressure bolt until the ball joint pin pops loose from the ball joint connecting hole. If necessary, apply penetrating type lubricant to loosen the ball joint pin.
NOTE: Do not use pneumatic or electric tools on the pressure bolt.
6. Remove the ball joint remover, then remove the nut or the ball joint thread protector from the end of the ball joint pin, and pull the ball joint out of the ball joint connecting hole. Inspect the ball joint boot, and replace it if damaged.
Special Tools Required B a i l Joint Remover, 28 mm 07MAC-SL0A202 - Do not use a hammer or impact tools (pneumatic or electric) to remove and install the wheel bolts. - Be careful not to damag ...
Special Tools Required - Clip Guide, 45 mm 070AG-SJA0300 -Clip Guide, 41 mm 07974-SA50700 1. Check the ball joint boot for weakness, damage, cracks, and grease leaks. NOTE: - If the ball joint ...
See also:
Cleaning the Seat Belts
If your seat belts get dirty, use a soft brush with a mixture of mild soap and warm water to clean them. Do not use bleach, dye, or cleaning solvents. Let the belts air dry before you use ...
Front Seat Active Head Restraint Inspection
NOTE: If the vehicle has been in a collision, always inspect the active head restraint, even if they appear reusable, by doing the following procedure. 1. Driver's seat (manual height adjustable ...
Power Mirror Replacement
NOTE: Take care not to scratch the door. 1. Lower the door glass fully. 2. With your hand, carefully pull out the top edge of the tweeter cover (A) to release the upper hooks (B) and detach th ...